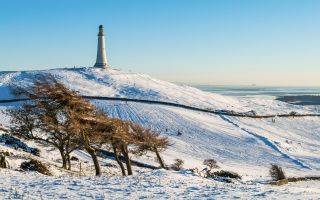 What we do
A festive thank you from the team
As another year draws to a close, we'd like you to know how grateful we are for your support. Together, we have achieved so many things that benefit people, wildlife and nature all around the Bay.
A festive thank you from the team
Whether you volunteered, donated or attended an event in 2021, we want to say a massive heartfelt thank you for sticking with us through challenging times. We could not have done any of it without you. Read on for a re-cap of our 2021 highlights.
Back on our Map project (BOOM)
Despite Covid restrictions, you still managed to give us a whopping 413 days of volunteering working in partnership with the Universitiy of Cumbria on the BOOM project which aims to reintroduce endangered species back to our area. Volunteers released 30 of the humble hazel dormouse to the Bay back in June and by October, an incredible tally of 92 doormice were recorded.
Working with schools and young people
School pupils from deprived areas enjoyed visiting Sunderland Point enabling them to discover a magical place on their doorstep with amazing support from the community.
In partnership with Eden North and Lancaster University, Primary school pupils took part in an oral story-telling pilot project using Emily Hennessy's story 'Made by the Moon' as a key tool to explore Morecambe Bay linked to the innovative Morecambe Bay Curriculum. We were blown away by the hugely creative responses and many more schools are lining up to take part.
LoveMyBeach and EOCA funded work
Nearly 1000 of you made a colossal effort collecting 11 tonnes of litter – that's the equivalent of 6 cars! Together, we covered 500km of coastline, footpath, cycle path, canal, parks and laybys. Our partners and supporters also helped us distribute 3000 eco-period products through local councils, charities and foodbanks to help the environment and tackle period poverty in Cumbria.
Saving the curlews
In early summer, you gave the enchanting but endangered curlew a fighting chance of survival by donating to our curlew campaign. These donations helped us buy electric fencing to protect their nests from badgers and foxes working closely with local farmers.
Widening access to the outdoors
With committed volunteers at Sunderland Point and Grange-over-Sands, we opened up two new Tramper hire points – a service which is really transforming the lives of disabled people in the Bay.
Fond farewells
In August, we were overjoyed to see almost 200 of you turn up for a guided walk across the sands to Chapel Island to wish Susannah well after 25 years at the helm of the Partnership, and soon after welcomed Sarah as our new Chief Executive Officer.
Virtual Sunset Series
One truly positive outcome of the last 18 months has been the growing community of Morecambe Bay lovers who've joined us from their own sofas. We enjoyed the company of interesting speakers on wide-ranging topics such as the wading birds of the Bay, the history of crossing the sands and the origins of the name 'Morecambe Bay and much more . In total, the team have enjoyed meeting over 1300 participants in events and school activities.
Saving the Bay's heritage
Our heritage volunteers have shared their research on Morecambe Bay's iconic historic buildings with more than 80 people at our special events. They have scoured the beaches of Walney in all weathers for prehistoric footprints, and bashed bracken to keep the Scheduled Monuments at Birkrigg beautiful and accessible for all.

"'It's been a challenging year for everyone but there is so much to celebrate and be hopeful for the future of the Bay. A heartfelt thank you for your continued support. We wish you all a very merry Christmas and a happy and healthy new year."

Sarah Mason
Chief Executive
Don't send a Christmas card
If you're aiming to cut down your Christmas footprint this year, you can send a virtual card to your friends and family and benefit the Bay. Your generosity can help protect wildlife, heritage sites, nature and landscape and open up access to the countryside for all. Thank you for your continued support.
Send a virtual Morecambe Bay Christmas card
Watch the Sunset Series on demand
If you missed any of the Sunset Series virtual events in 2021, you can head over to our YouTube channel at any time and watch and enjoy at your convenience.
Watch the 2021 Sunset Series