Shop to 'Love Morecambe Bay' here Shop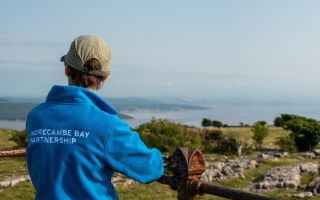 Opportunities
If you share our love for Morecambe Bay and want to commit your energy to caring for and celebrating its nature, heritage and culture - you could play a crucial part in the work of our charity. Your skills could improve access for all to the landscape or you could work at the heart of the Bay's communities collaborating with amazing partners to make a positive difference.
Explore the opportunities that come up from time to time - we are often looking for great people to join our team whether as staff or a volunteer Trustee. We have the most dedicated, enthusiastic and professional team who love Morecambe Bay. If you think this sounds like the place you want to work, and where you can contribute your talents and grow professionally, then we would be delighted to hear from you when roles are available.
As part of our programme of projects, we occasionally have opportunities for commissioned work for culture, heritage, arts and nature engagement too - keep watching this space.
Opportunities for businesses located in Morecambe Bay
We are currently developing Morecambe Bay's new walking and cycling initiative 'Ways Around The Bay' which is part of the Coastal Communities grant-funded programme 'Experience Morecambe Bay' in collaboration with South Lakeland District Council.
We are now inviting businesses to get involved with two exciting opportunities:
Free promotion on the 'Ways Around The Bay' journey planner website
If you run a tourism and hospitality business and would like to attract walkers and cyclists through your doors, we invite you to promote your business on this brand new website designed to inspire new and existing cyclists and walkers to explore the Bay more.
Interested? You can find out more and submit your details free of charge here.
Diversify or expand your business by becoming an E-Bike hire hub
We're looking for a range of commercial operators to host and operate a fleet of e-bikes to hire. Your business may be a hotel, B&B, holiday park or other business but we're also interested to hear from start-ups.
Find out more here


Sorry, No Current Job Opportunities
Please do check back here and on our social media for new opportunities when they arise.
We have lots of other ways you can get involved with our work.