Shop to 'Love Morecambe Bay' here Shop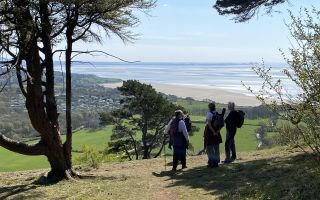 Respect, Protect and Enjoy
Coastal Code
Morecambe Bay is valued by the people who live and work here, enjoyed by its many visitors, and depended upon by rare and special wildlife.
Care for the Bay
To help the Bay thrive, we all need to play our part to protect the precious place that is Morecambe Bay. The Coastal Code is a guide to keeping precious wildlife, flowers and plants safe from harm as well as you and your loved ones so everyone can continue enjoying the Bay into the future.
Keep your distance around coastal wildlife
Morecambe Bay is a very special place for wildlife, especially birds. It is one of the best places in the UK to see breeding or migrating shorebirds, and has many international designations which recognise its importance including Sites of Special Scientific Interest (SSSI).
Respect the birds by not getting too close to them when they are feeding or resting.

Protect the birds by not causing them to take flight which uses up their limited energy reserves. They need to conserve their energy to survive the winter or travel hundreds of miles during migration.
Enjoy the birds by visiting one of Morecambe Bay's many nature reserves or using a pair of binoculars to watch from a distance.

Consider others
The Bay is shared by farmers, holidaymakers, local residents and businesses. People rely on Morecambe Bay for their livelihood, recreation or simply for enjoyment of the great outdoors.
Respect the local community by following instructions on signs, leaving gates and property as you find them and following paths. Maintain social distance and give way to others where the path is narrow.
Protect people's safety and well-being by keeping dogs on leads around other visitors, other dogs, wildlife and livestock.
Enjoy the diversity of Morecambe Bay by following established footpaths and routes. The Bay Coastal Path will provide a safe route along the entire coast for walkers to enjoy. Whilst most beaches are available for the public, some areas of foreshore and marsh are privately owned. Please read local information signs for further details.
Stay safe
The tide comes in very fast in Morecambe Bay and it's easy to get cut off or stuck in sinking sand.
Respect the dangers of Morecambe Bay by planning ahead. Check tide times before you visit (try Tideschart or download a smartphone app for tide tables) and never try to cross deep channels without expert guidance. It's easy to get disorientated by the shifting sands, so make sure you know where you are at all times. Watch this safety film to learn more about the Bay's tide and how you can protect yourself.
Protect yourself and your party by venturing on to the sands when the tide is on its way out. It's crucial to be aware of the time and have a plan for where and when you will exit the beach. Always carry a working phone so you can dial the coastguard if you get into trouble.
Enjoy the dynamic landscape of the Bay safely from viewpoints or above the high tide line.
Water quality and your safety
Morecambe Bay Partnership is a charity with no statutory function or enforcement role in water quality. However, we share concerns about water quality in Morecambe Bay and wherever possible we work with those organisations whose responsibility it is, to help.
Morecambe Bay Partnership is committed to clean water in Morecambe Bay and will continue to seek funding to help with this important issue in any way we can.
We don't have the facilities to advise on the cleanliness of beaches at any given time, but the Surfers Against Sewage interactive map is a fantastic resource which helps people make informed choices about using the Bay's beaches and swimming in the sea.
Be environmentally friendly
Morecambe Bay is a beautiful environment to discover and enjoy, and it's important that visitors leave no trace. Removing plants or rocks can destroy sensitive wildlife and habitats, and litter and fires are unsightly and can be a danger to animals and humans alike.
Respect the environment by leaving no trace of your visit. Take your litter home, don't pick flowers or take anything away with you. Fires are not allowed without landowner permission, and disposable barbecues must be raised off the ground and never left unattended. Balloons, fireworks and Chinese lanterns all come down eventually and become litter which is dangerous to people, dogs and wildlife. Please do not release them.
Protect wildlife by keeping to paths and keeping dogs on a lead near wildlife. If you can, pick up some litter as you're leaving the beach. Plastic breaks down in smaller and smaller fragments over time, so by picking up that empty bottle, you're saving millions of microplastics entering the marine ecosystem. Every little helps!
Enjoy the natural wonders of the Bay. There are many information signs that tell you what is special around you and how to protect it, and there is so much to discover...
There's lots of room for everyone to enjoy our beautiful coastal countryside! By following these easy guidelines we can keep Morecambe Bay beautiful.