Shop to 'Love Morecambe Bay' here Shop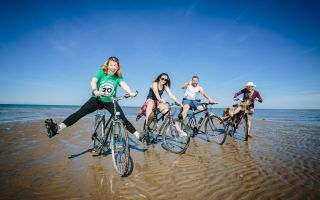 The only charity dedicated to connecting people with the nature, heritage and culture of Morecambe Bay
What We Do & Our Impact
Morecambe Bay Partnership exists to entwine people and place.
We offer everyone the opportunity to connect with the inspirational nature, heritage & culture of Morecambe Bay

Over the last 10 years we have:
- Engaged over 81,000 people in 1640 participation events & activities offering as many people as possible the chance to connect and care for the Bay
- Delivered 150 community training days & trained 57 teachers
- Worked with over 2170 volunteers contributing 3952 volunteer days (equivalent to over 10 years full time working!)
- Connected 1197 school children and 47 schools with Morecambe Bay so they understand it and might care about it in future, developing a sense of pride in their place.
- Created 130km of cycle routes with the Bay Cycleway.
- Shared 14 inspirational art installations/projects to bring high quality arts opportunities to our communities
- Removed 3 sites from the Heritage at Risk Register & undertaken 55 vital surveys of heritage and nature & 1 archaeological dig
- Led major campaigns to protect roosting and nesting shore birds
- Removed 85 tonnes of litter from the bay's beaches, footpaths and trails
- Provided 5 all-terrain mobility scooters and 8 accessible routes so everyone can enjoy getting outdoors and can gain the health and wellbeing benefits.
- Led 5 major community-based environmental campaigns to help protect clean beaches and bathing waters including distributing over 4000 eco-period products to girls and women in deprived areas.
- Forged partnerships with dozens of organisations and community groups to protect Morecambe Bay and support its communities

Our charitable work relies on volunteers and your generous support, through fundraising, donations or supporting events and activities. We'd love you to get involved - explore our website for opportunities, sign up to our newsletter below, register as a volunteer, book on to an event or make a donation.
Morecambe Bay Partnership is a registered charity, governed by a board of trustees. Our registered charity number is 1173489. You can find us on the Register of Charities here and a copy of our latest Trustees Report and Annual Statement of Accounts can be found here.

Our charity's policies shape the way we work and embody our core values. You can read our policies in full here: Environmental Policy; Equality, Diversity and Inclusion Policy; Privacy Policy; Donation Acceptance & Refusal Policy; Modern Slavery Statement; Fundraising Promise; Fundraising Complaints Procedure; Anti-fraud, Theft & Corruption Policy and our Whistleblowing Policy.