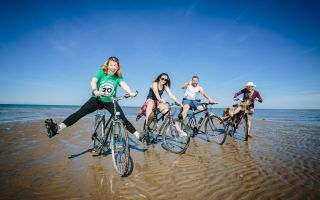 Helping the Bay to thrive
We are a charity working with communities to conserve and celebrate all that is special about Morecambe Bay.
What We Do
From birds to beach cleans, from cycle ways to the history that shaped us, we work in collaboration with the community and other partners to deliver projects with real impact.
We involve thousands of local people to learn a wide variety of skills to conserve local heritage, nature and wildlife. We create new habitats, remove tonnes of beach litter, train teachers, collect oral histories, improve access for disabled people and commission great art projects to celebrate the landscapes of the Bay.
Our Vision 2021-23:
A thriving Bay, rich in landscape, wildlife and culture, which connects and inspires residents and visitors alike. A place where local people are at the heart of looking after the landscape, wildlife and heritage and where the stunning landscape and heritage act as a driver for sustainable economic growth.
Our Goals are to:
Celebrate and encourage understanding and enjoyment of the Bay area's natural, cultural and historic assets
Conserve the unique wildlife, culture and heritage
Connect people with their place and with one another to improve their quality of life
Collaborate with key partners and the local community
Strengthen and improve the resilience of our organisation.
Our charitable work relies on volunteers and your generous support, whether through fundraising, donations or supporting our events and activities. We'd love you to get involved - Explore our website for opportunities, sign up to our newsletter, register as a volunteer, book on to an event or make a donation - you will help make the Bay a great place to live, work and visit. Find out how you can contribute in 2022.
Morecambe Bay Partnership is a registered charity, governed by a board of trustees. Our registered charity number is 1173489. You can find us on the Register of Charities here and a copy of our latest Trustees Report and Annual Statement of Accounts can be found here.