Shop to 'Love Morecambe Bay' here Shop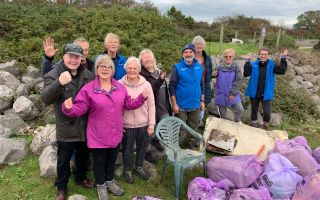 Get Involved
Volunteer and share your love of Morecambe Bay
What would you like to get involved in? Helping nature thrive? Getting hands on with archaeology? Protecting birds?
We can offer opportunities to get outdoors, make new friends, learn new skills and support your local Bay community.

Read on to find out more about the latest volunteering opportunities with Morecambe Bay Partnership.
Volunteering
We have volunteers working all around Morecambe Bay caring for this unique and special place, protecting and celebrating the nature and heritage, cleaning up the landscape and supporting people to get out and about into the countryside.
We have volunteering opportunities available at different times of the year supporting a wide range of projects including beach care, nature and wildlife, heritage and archaeology, Bay Cycle Way, Trampers and disabled access.
Current volunteering opportunities
At the moment we are specifically recruiting for the following volunteer roles. If you are interested in one of these areas, please email us for more information.
New Active Travel Hub volunteers at Grange-over-Sands
We have a variety of roles coming up to help us run a new active travel hub based at Grange Railway Station. We will be offering e-bike and mobility scooter hire to locals and visitors and are looking for people who love to share their passion for Grange and the local area.

You can find out more about the hub and the roles on offer here.
Tramper hire volunteers in the Grange and Cartmel Peninsula areas
Help us tell the story of the Furness Peninsula
Would you like to join one of the longest-running research projects in the world? By signing up for our free training course, you can do just that!

We are looking for volunteers to help the Victoria County History project with researching the 'Big Red Books' of Cumbria. These will contain a detailed history of every parish and township in Cumbria. The books will bring together historic documents, expertly cared for by Cumbria Archive Service, and make them accessible to people all over the world. This is a massive task, so they need your help collecting the information that will go into them.

We have teamed up with the Victoria County History of Cumbria project to host a historical research training course which will give you all the skills you need to get involved.

Training sessions will be on Monday afternoons from the 6th of November to the 11th of December - four sessions will be online, and there will be a visit to Barrow Archives and an outdoor building history tour of Dalton-in-Furness.

You do not need any experience to get involved - just an interest in the past and a willingness to spend some time researching with us.
Sign up for the training course here, or see more course details here.
Take a look below at what we have achieved together.
Stats about Morecambe Bay Partnership
1750
Days of time volunteered
65
tonnes of beach litter cleared
3
sites removed from the heritage risk register
130
km of cycleway maintained
117
oral histories recorded
55
heritage and nature sites surveyed
1000s
of roosting and nesting birds protected from disturbance
5
all-terrain mobility scooters available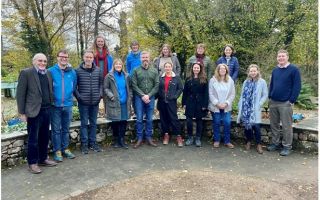 Work with Us
The Morecambe Bay Partnership team are committed to making great things happen, and all of whom care deeply about the communities of the Bay.
Meet our Team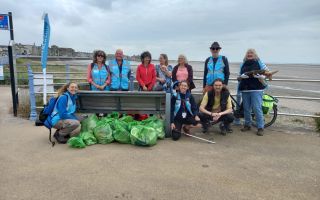 Explore litter picking groups around the Bay
There are a number of litter picking groups around the Bay committed to cleaning their local area and beaches. Use our map to find your nearest group.
See the map here