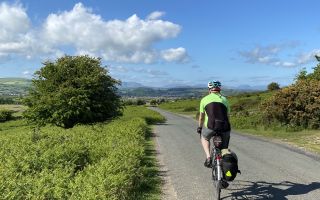 Opportunities
Morecambe Bay - a cycling and walking destination to shout about
Do you run a business which offers a great welcome to cyclists and walkers in Morecambe Bay? Read on to find out about some exciting opportunities coming up.
Morecambe Bay - a cycling and walking destination to shout about
Here at the Partnership, we see the landscape and heritage of the Bay as a driver of the local economy, and what better way to immerse yourself in these attractions than by bike or on foot.
What's happening?
We've successfully secured a Coastal Communities Fund grant from the Department for Levelling Up, Housing and Communities in partnership with South Lakeland District Council (SLDC) for a new 2 year programme of development across the Morecambe Bay region.
The programme called 'Experience Morecambe Bay' is a suite of projects to establish the area as an attractive destination for cycling and walking, focussing on the development of active and sustainable ways to get around the Bay with more inclusive access to the countryside whatever your level of ability. It builds on the success of previous projects such as the launch of the well-known Bay Cycle Way, extending Tramper hire locations and re-starting the development of an E-bike network.

Why should my business get involved?
According to a study by the Department for Transport, cycle tourists spend 9% more than the average visitor and what they spend locally, stays local too. It's a growing market so an important local and visiting audience that's worth investing in.
Prior to the pandemic, the Bay Cycle Way launched in 2015, is estimated to attract around 60,000 cyclists each year with an associated spend of £245-320k. Walking and cycling activity has grown significantly during the past 2 years and we want to work with you to ensure we raise the profile of the Bay as a great 'active experience' destination offering a friendly and inclusive welcome.
By taking up any of the opportunities on offer, your business could benefit from a high profile marketing campaign to boost trade and support you to deliver an attractive cycling and walking offer to your clients.
The programme aims to create sustainable jobs and active travel opportunities for staff and residents in the Bay too.

What are the opportunities?
There are several ways you can be involved, from simply joining in with a cycling and walking marketing campaign, to business diversification, or promoting the developed routes to your customer base and improving your overall attractiveness to this market.
Your business could be:
Part of an exciting cycling and walking destination website where locals and visitors can go for all their planning needs and inspiration encouraging more visits and higher spend.
Part of a network of E-bike hubs helping you to diversify and expand your business
A host for the network of Tramper hire locations boosting your 'purple pound' appeal
Offering an online training course to your team to provide a fantastic welcome to cyclists and walkers enhancing the Bay's reputation and attracting great word of mouth promotion.
Promoted as part of a cycling and walking destination marketing campaign throughout 2023 featuring on the new website, joining in coordinated social media messaging, or potentially featuring in newly commissioned film and photography
Offering a range of route guides that will be attractive to your customers and help them make the most of their day out.
Improving your appeal to those who are less physically-able by the provision of information on local E-Bike hire and Tramper locations.
Opportunities for contractors
In the coming months, we'll be looking for different types of contractors to help us deliver this work.
These contracts must be tendered for, so if you're interested in working with us on this exciting programme, keep visiting these pages for more information. The kinds of contractor we are looking for include:
Photographers and videographers: submission deadline 25 May. Find the briefs here.
Web developers
Graphic designers
Creative community event designers and organisers
"We have a great opportunity to highlight the Bay as a fantastic walking and cycling destination at a time when we're seeing a surge in interest for these activities. We want to ensure we are seen as accessible and welcoming and that the Bay's reputation for great outdoor experiences spreads across the UK."

Richard Frank
Access and Infrastructure Team Leader
Here is a summary of the projects we are delivering over the next 2 years.
The creation of a new online leisure cycling website to help people plan their cycling trips around Morecambe Bay, increasing visitor numbers and spend and encouraging local people to cycle more.
With Lancashire County Council, we are exploring options to extend the Bay Cycle Way for 24km from Glasson Dock to Fleetwood.
Creation of new family friendly cycling routes supporting active travel.
Creation of electric bike hubs to improve health and wellbeing, support active travel and new business start-ups.
Branding of the England Coast Path as the 'Bay Coastal Way'.
The creation of the 'Headlands Way' series of walking routes which will promote high-level circular walking trails linked to the 'Bay Coastal Way' with best views of the Bay.
Improving access for those who cannot walk far through the provision of new Trampers, accessible routes and hire points.
Developing and delivering an online training course for tourism and hospitality staff designed to improve and enhance our reputation as a friendly and welcoming place for walkers and cyclists.