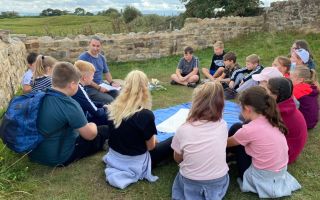 Landscape, Coast & Nature
Young Explorers of Morecambe Bay – Living by the tides
Awakening curiosity, building connections, experiencing new things, and fostering a sense of joy, discovery and freedom.
Young Explorers of Morecambe Bay – Living by the tides
If you happened to be wandering around glorious Sunderland Point last Autumn, you may have glimpsed school children dancing as little egrets and lapwings, or posing in the landscape with homemade pin-hole cameras. You might have listened in to a storyteller recounting the story of a slave boy, or stumbled upon young people sorting through some coastal 'treasure' along the shoreline.
In the Autumn of 2021 we were delighted to finally be able to deliver the second round of our Covid-delayed Exploring Morecambe Bay project with primary schools in the Lancaster & Morecambe District. The project aims to create joyful and inspiring opportunities for local or disadvantaged young people enabling them to have creative, enriching experiences rooted in the special Morecambe Bay landscape.
Supported by the Areti Charitable Trust, the wonderfully welcoming Sunderland Point community and a team of creative and outdoor learning specialists, 245 children enthusiastically discovered the nature, heritage and coast on their doorstep through new skills, and the chance to try out new, confidence-building activities. This project aimed to help more children gain an awareness of their local environment but also support the discovery of their own coastal identity and to reap the health, wellbeing and social benefits of being outdoors.

"[on arrival] I'm scared of wide open spaces [on leaving] I love it here –I want to live here"

Year 5 Pupil
Ryelands Primary School
In preparation for the site visit, children also spent time with storyteller Emily Hennessey who shared her special Made by the Moon story – a creation myth about Morecambe Bay full of spectacular giants and beautiful curlews.

"We went outside and found things in nature that inspired the pupils' own creation myths. We explored the landscape of the Bay through story and drawing, told stories using freeze-frames and role play, hosted the 'Litera-lympics' (Literacy Olympics!) with tournaments in similes, alliteration and metaphor, and worked on ideas for a sequel to the Made by the Moon story (what happened when the giants woke up…?)"

Emily Hennessy
Storyteller
Then, out on site at Sunderland Point, the schools worked with photographer Darren Andrews, outdoor learning specialist Gina Parker (Mullarkey), dance specialist Jenny Reeves, drama practitioner and storyteller Steve Fairclough and members of the local community association to explore the village.
This is a place where people live and work by the tides, where seabird murmurations take place above their heads, where the evocative call of the curlew can be heard, where we can all look at the coastline with fresh eyes and learn how to help care for the environment whilst discovering the stories of one of the Bay's most special places.
"Brilliant opportunity. Team building and the building of enthusiasm. Different personalities had an opportunity to shine and new skills explored and tested."

Teacher
Overton St. Helen's CE Primary School
"The children really enjoyed the visit. Many didn't know this place exists even though it is close by. Interesting to view Lancaster monuments from a distance and different perspective."

Teacher
Skerton St Luke's CE Primary School