Shop to 'Love Morecambe Bay' here Shop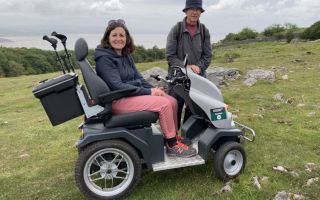 Be Inspired
Trampers can transform lives.
Can you imagine rediscovering opportunities you thought, were lost forever?
Trampers can transform lives
Our Tramper users and volunteers tell us how much the service matters to them.
Lin loves the Trampers - here's why
"Since I had a stroke 6 years ago it has been an ambition of mine to go up there (Hampsfell). I used to be a very active person who spent a great deal of time outdoors, so I find being confined to the indoors very onerous. The person in charge of the scooters that day couldn't have been more pleasant and helpful and I would like him to know that the whole experience meant a great deal to me"

Lin
Grange-over-Sands Tramper user
Tramper volunteer Brian recalls...
The Tramper service relies on committed volunteers from the community to help run the service at Sunderland Point.
The volunteers have many stories of visitors who have been overwhelmed by the experience of getting off the beaten track with their loved ones, believing this was something no longer available to them.
Volunteer Brian tells us of an elderly gent that he chanced upon, soon after the Tramper arrived at the Point. He was being pushed in a wheelchair by his wife and daughter who were struggling to reach the fascinating heritage sites. Worried for their safety, Brian told them of the Tramper and brought it to them.
When the family returned later that afternoon, so astonished by the transformation of their day, he recalls they had tears in their eyes.
"The value of this service is immeasurable. It means something very special because it allows the users and their family and friends to get back quality time together, reconnecting with nature and heritage on the doorstep."

Brian
Tramper volunteer
Anita recently ventured up Hampsfell and had a grand day out....
"I thoroughly enjoyed taking the Tramper out up onto Hampsfell this morning. It was amazing to be able to go for such a distance and on such varied terrain. The views were super, we could see all the way to Ingleborough. We even managed time for a cup of coffee next to the wonderful limestone pavement. Thank you so much for making this possible and for all the volunteers who give up their time to open up and get the Tramper ready for the off so that this becomes a reality. Now I am able to get out and about again with the family."

Anita
Tramper hire customer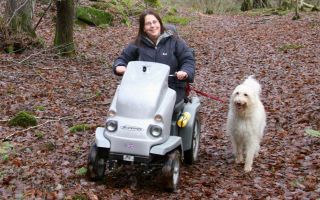 The Tramper service is free to use but please reserve a slot online here.
Hire a Tramper