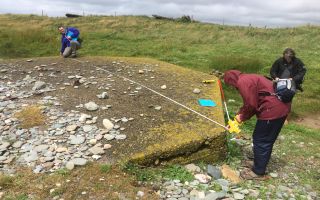 Culture & Heritage
Defending the Docks
Centred on Barrow and Walney, 'Defending the Docks' is a military heritage community recording project. Rooted in STEM (Science, Technology, Engineering, and Mathematics) learning, the project will deliver skills development for young people and focus on Barrow's nationally important military defence landscape.
Defending the Docks - Project Overview
We'll be working with young adults, schools, and volunteers to develop skills in computer science, digital technology, coding, virtual reality, mathematical surveying, engineering design and study of materials to scientifically record World War archaeology remains.
Barrow has long been associated with shipbuilding, maritime industry, and innovations in military defence engineering. To protect the shipbuilding capabilities of the town, Walney Island and the surrounding area has a landscape of significant military defences. Alongside those of the Channel Islands, Walney has one of the most complete collections of historic coastal military defences in Britain. The area constitutes a regionally significant group of related and interlinked structures.
Many of the structures remain intact, however, they are subject to vandalism, coastal erosion, and decay. It is important that the remaining structures are recorded before they disappear entirely.
We will work with communities around Walney and Barrow to gather evidence for the military defence of the area. Volunteers will be trained in desk-based research skills, mathematical survey, oral history recording, data gathering and use of 3D modelling and Geographical Information System software. Participants will use these skills to produce a professional record of extant military installations and learn the programming techniques required to contribute their research to a Virtual Reality (VR) model of the wartime landscape.
The VR model will be used to re-imagine the landscape of Second World War Walney and Barrow, immersing the participants into the military installations, demonstrating their extent and how they worked together to operate as a network of defence. We will use the model to teach coding, the use of computer software and most importantly support STEM learning. The model will be used as part of the community exhibitions and will be available for schools to use and develop beyond the lifetime of the project.
We are looking to engage schools in the project; young people will learn about the military history of the area, help record the sites through discovery days and create content (such as poems, newspaper articles, reconstructions/models) for use in the community exhibition. The content of the school sessions would be designed and delivered to reinforce the National Curriculum (Key Stages 2-3) and support learning in science, history, geography, English, art, and maths.

An unusual, creative and fun project, we hope to inspire young adults to learn skills to look after military heritage on their doorstep and inspire the wider community to get involved.
Key aims
The project aims to:
Equip adults and young people with new STEM skills
Increase awareness of Barrow's nationally important military defence landscape
Create a unique virtual reality model allowing people to immerse themselves in the
past landscape
Survey and record archaeological remains
Record memories digitally
Engage schools by recording sites and creating content
Deliver a community exhibition and heritage interpretation
Create a permanent archive available online

This project has been made possible through generous support from Orsted, BAE, and the Fisher Foundation.

If you are a school interested in getting involved in this project, we'd love to hear from you.
Contact us to organise a school visit in September to October. We'll give you an overview of the project, a demonstration of our Virtual Reality model and make a visit to Walney to see archaeological remains.
Contact us here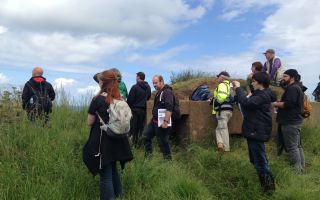 Want to volunteer for this project?
If you're interested in volunteering for Defending the Docks, complete our online form.
Sign up here