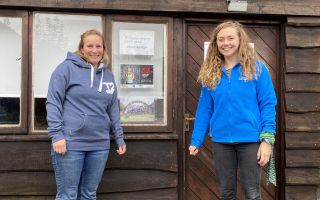 Care for the Bay
We're creating a sustainability resource for the outdoor community
We are working with outdoor event companies to create a resource that will help run their events in a more sustainable way.
Sustainability resource for the outdoor community
Have you been to an event where there's lots of surplus, unnecessary single use plastic? Have you seen litter left on the trails and signage left out long after the event has ended?

We want to harness the many positives that outdoor events bring. From improving individual's health and wellbeing and the benefits to local tourism, these activities are vital to motivate and inspire residents and visitors alike. But it's also important to ensure events don't have a negative impact on the environment.
For those of us who take part in these events, or organise them, we're in a unique and fortunate position to make positive change. We love the outdoors and enjoy taking parting in events, which puts us in the best place to figure out how to run them in a sustainable way - for nature and people.
Many event organisers are already doing great things to run events with the least amount of environmental impact.
This includes:
- Reducing the carbon footprint of the event
- Being mindful of the travel involved before, during and after the event
- Finding alternative uses for 'waste' after the event
- Protecting the biodiversity and landscape where the event takes place
- Looking into ways the event can be more sustainable and educating others along the way.
"Whether it's a 5km fun run, a trail race, fell run, triathlon, swim event, cycle sportive, challenge event or a festival - If it takes place in Morecambe Bay and the surrounding area, we would love to hear from you!"

Lauren Munro-Bennett
Beach Care Assistant
Sustainability resource for outdoor events

We'd like to connect with outdoor events organisers to help us create a resource which will include guidance on ways to reduce the negative impact events have on the environment ranging from advice on how to make the smallest of changes, all the way up to big alterations or recommendations.
We have already been working with local event companies and organisers to build this resource. These include T2 events, The Lap Windermere, Ourea Events, The Bay Limestone Round, Greener Miles Running and other organisations like Dirtbags Climbing, Trees Not Tees, Green Small Business and Trash Free Trails.
The resource will allow event organisers to easily get help and guidance to run events in the most sustainable way possible.

If you are an event organiser or take part in these event, we would love to hear from you!
Please get in touch as we would love to hear your thoughts. Alternatively, pass this information on to event organisers you know.

If you are interested in the project, please contact Lauren at lauren@morecambebay.org.uk.