Arnside Viaduct Cycling and Walking Trail
The creation of a cycling and walking route across the Arnside Viaduct has been a long-standing aspiration for many local people and organisations, so we're delighted to announce the launch of a feasibility study for the route which would connect the communities of Arnside and Grange-over-Sands.

We've been working closely with the Arnside to Grange group (AtoG) and other stakeholders including South Lakeland District Council, Arnside & Silverdale AONB, Cumbria County Council, Natural England, Network Rail, Furness Line Community Rail Partnership, Dallam Estate, Holker Estate and other local landowners and residents and were successful in securing funding for this feasibility study from the Department for Levelling Up, Housing & Communities 'Coastal Revival Fund'.
The study will determine if there are viable options to progress community aspirations and if successful, will be good news for the Bay's future to connect communities, increase active travel, reduce carbon emissions while boosting the local green economy and creating a fantastic attraction for visitors and local people to enjoy.
"We're delighted to progress this study with PJA Consultants and all the local stakeholders. A cycling and walking trail has been a long held aspiration for the local community which could potentially bring far-reaching economic, environmental and wellbeing benefits to the Bay."

Richard Frank
Access and Infrastructure Team Leader
Thank you to all who responded to the initial survey which closed on 4 February. Further public consultation will take place in the summer so look out for updates on this page.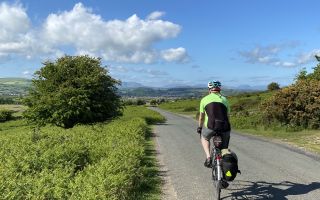 Explore Morecambe Bay by boot and bike
Explore our pages to be inspired and plan your next walk or bike ride around the Bay
Walk and Cycle around the Bay