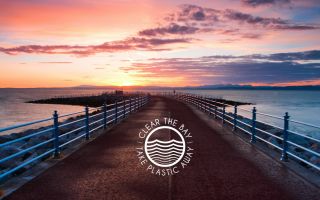 Litter picking heroes
Find out about the work of our wonderful volunteer litter pickers as well as how you can lend a hand on your own patch.
Join in and help clear the Bay's beaches
We have a fantastic team of litter picking volunteers around Cumbria, who work hard to keep our beaches, footpaths and cycleways clear of plastic and other rubbish. We have cleared over 65 tonnes of rubbish over the past 17 years and have been working hard to ensure that we turn the tide on a pandemic of plastic that blights our shores. We have a lot of litter picking groups throughout the area, so if you want to join in and lend a hand, then please register as a volunteer and we will match you with your closest bunch. Below you will find regular updates from the team.
"I love nature, the countryside, and this area… I feel I am doing my small bit to put right a great wrong. After a morning's litter-picking with a friendly group, I feel we have made some progress!"

Virginia Edwards
Volunteer leader of the Arnside and Silverdale litter picking group
Spring is here!
The clocks have gone forward, lighter evenings are upon us, the birds are singing and butterflies are emerging... And our volunteers are out litter picking! Take a read below to learn why some beach cleaning groups' seasons have come to an end, find some lovely quotes from dedicated volunteers and future events to get involved with in the upcoming months.
North Walney Beach Cleans season comes to an end for birds to nest in peace
As spring has arrived, the bird nesting season has begun. This means the beach cleaning season comes to an end for our volunteers at North Walney National Nature Reserve. North Walney beach cleaning group operates from 1st August to end of February each year.
This 'season' is really important because it prevents any disturbance to nesting birds during spring and summer by litter pickers. The beach cleans at North Walney will resume again at the beginning of August, when the bird nesting season is over.
A few words from our volunteers
There are so many benefits to beach cleans and litter picks, including: protecting wildlife, feeling a sense of stewardship to our beautiful surroundings, socialising with like minded people and connecting with nature, along with many other benefits.
We wanted to hear from our fantastic volunteers as to why they get involved in beach cleans. Here's what they had to say.

"I love nature, the countryside, and this area… I feel I am doing my small bit to put right a great wrong. After a morning's litter-picking with a friendly group, I feel we have made some progress!" Virginia Edwards, volunteer at the Arnside and Silverdale litter picking group
"I litter-pick because... It also gets me out into the beautiful countryside with groups of like-minded people." Andy Price, volunteer
"I litter pick to meet people, and to protect the beauty of the landscape" Elaine, volunteer
"I lost my husband, and then we had Covid, so I am looking for friendship, as well as helping the AONB" Gill, volunteer
"I like walking in this area, so I like to help and support it" Barbara, volunteer
"We don't like all the litter people drop, we like to keep the environment clean and tidy." Helen and John, volunteers
Let's end the quotes with an inspiring story. Frank, who is 92 years old and heads out for regular litter picks with Eric, both active volunteers for Carnforth Wombles (pictured above):

"92 year old Frank asked me to join him up Kellet Road by the lay-by, 2 bags in 20 minutes. Only done from farm to the seat, a massive thank you from me."

Eric Harris
Volunteer for Carnforth Wombles
Upcoming events
We have a group of volunteers heading out for a litter pick 7th May heading out along the Silverdale coast.
Carnforth Wombles go out every third Sunday of the month and every other Thursday morning for regular litter picks, across different parts of Carnforth.
Finally, keep your eyes peeled for some exciting litter picking news in the Grange area too…
Please do get in touch if you want to join any of these groups.
Running totals
Litter collected: 19.5 tonnes
Area covered: 1510 km
Volunteers: 1,454 volunteers
If you want to read our previous monthly updates, please do get in touch.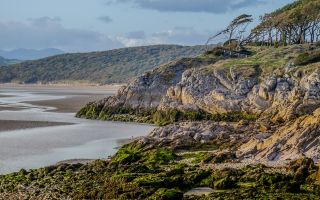 Volunteer your time
Find out how you can get involved with the Morecambe Bay Partnership and volunteer your time.
Join us on a beach clean