Litter picking heroes
Find out about the work of our wonderful volunteer litter pickers as well as how you can lend a hand on your own patch.
Join in and help clear the Bay's beaches
We have a fantastic team of litter picking volunteers around Cumbria, who work hard to keep our beaches, footpaths and cycleways clear of plastic and other rubbish. We have cleared over 65 tonnes of rubbish over the past 17 years and have been working work hard to ensure that we turn the tide on pandemic of plastic that blights our shores. We have a lot of litter picking groups throughout the area, so if you want to join in and lend a hand, then please register as a volunteer and we will match you with your closest bunch. Below you will find the monthly update from the team.
November Update
Earlier in the month, we joined some tide liners down at Warton Shore for a lunchtime litter pick. As it's a tidal area, Warton shore can be a hotspot for washed up litter. But the regular volunteers of this area do a remarkable job of clearing it – they have collected over 11kg of litter this month alone. We also joined some lovely volunteers near Milnthorpe Marsh for a litter pick. We got lucky with a beautiful sunny day, and our wonderful canine friend, Tickle, helped with our litter picking efforts.
Natural England litter picking group at North Walney Nature Reserve (NNR) have also been busy this month, with 10 volunteers collecting an astonishing 126kgs of litter! Ewan Scott, volunteer coordinator for these litter picks, spotted some Roe Deer tracks (photos below) whilst out on a walk near to where he regularly litter picks. It's fantastic to see wildlife enjoying the areas we are clearing as well as emphasising why our efforts are so crucial.
As we head into the colder months, hopefully we're all ready for some winter litter picks, armed with woolly hats, scarves and flasks of tea! If you want to join in with a litter picking group across the Morecambe Bay area, then fill out our volunteer enquiry form and we can match you up with one of the local litter picking groups.
Running Totals
Litter collected: 13.2 tonnes
Area covered: 907 km
Volunteers: 1,095 volunteers
If you want to read our previous monthly updates, please do get in touch.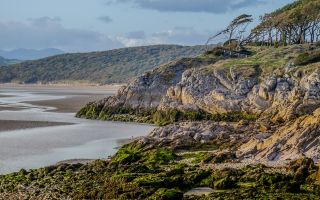 Volunteer your time
Find out how you can get involved with the Morecambe Bay Partnership and volunteer your time.
Join us on a beach clean