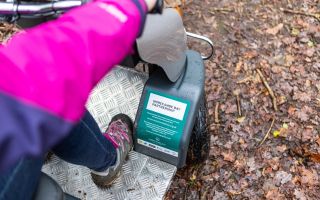 Tramper hire points and how to book
The Tramper hire locations are growing so be sure to re-visit this page in future. You can find a hire point at a glance on the map and see where the accessible routes start from. The service is run mostly by volunteers who are keen to help you make the most of your day - they will advise you where to go from the hire point and offer you a route guide to take with you.
How to book:
The hire points have been set up in collaboration with several partners so the process for booking may vary slightly at each location. For specific details, click on the location that interests you to find out everything you need to know.

Tramper Routes
A selection of routes that are suitable for Trampers, near the hire locations:

2.5 km / 1.55 miles / 2.5 Hours hours walk duration

2.5 km / 1-2 hours hours walk duration

4 km / 1.25 hours hours walk duration
Grade 1
Suitable for manual wheelchairs, as well as powerchairs and scooters. Routes are predominantly flat with largely smooth, bound surfaces. There is a good level of supporting services nearby.
Grade 2
More undulating than grade 1, best suited to scooters and powerchairs. Routes are generally on good tracks, although there may be stony or soft going stretches with shallow ruts. Gradients are limited to less that 1 in 10 with a maximum climb of 50 metres. There are usually some supporting service facilities en route or nearby.
Grade 3
Similar to grade 2, but with more height gain (up to 100 metres), and / or unavoidable stretches of more difficult ground. Supporting facilities are often available nearby, or within a short distance.
Grade 4
Routes that involve height gain up to 200 metres, including some steep pitches and / or rough and technical sections. Consequently, few 'town' scooters or powerchairs are suitable and a more robust off-road model is usually necessary to ensure safety. Supporting facilities may not be available en route or very nearby.
Grade 5
Routes that are some distance from roads on exposed hillsides over rough tracks with significant slopes, cambers and climbs. The routes involve longer stretches of rougher going than other grades, with steeper slopes (up to 1 in 5) and greater height gain (over 200 metres). Only suitable for robust models of powerchairs and scooters designed for off-road use. Supporting facilities are unlikely to be available en route or very nearby.
Book a Tramper
To book a Tramper, please complete and submit the following form. One of our volunteers will then contact you to confirm the booking arrangements. All booking enquiries are subject to availability, but we will do our best to meet your needs.