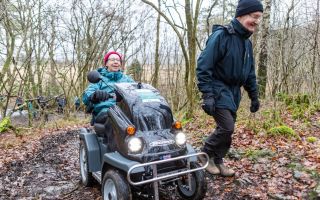 Be Inspired
Discover the joy of getting outdoors
Getting outside into nature is vital for our health and happiness but if you struggle with poor health or impaired mobility, this simple pleasure is often no longer an option. We are committed to making the Bay and all its wonderful sites more accessible to more people by growing the number of locations where you can hire a Tramper.
Hire A Tramper
A Tramper is an all-terrain mobility scooter which is safe to use on most kinds of rough ground such as stoney tracks or steep woodland trails but also good on pavements and walkways. Due to their size and stability, a whole range of opportunities to get into the great outdoors with friends and family, are waiting to be re-discovered. What's more, they are comfortable, robust and easy to use.
Trampers can be adapted to your size and are capable of carrying a person up to 25st weight. And if you're feeling particularly adventurous, they're great for climbing slopes and last a long time between charges.
Requirements for hire
Booking is essential but the Trampers are free to use. Donations, however are welcome to help us cover the costs of running this service. You need to be at least 14 years of age to use a Tramper.
You will be greeted at the hire point by a friendly volunteer for a short training session so we can assess your ability to control the vehicle unaided before setting off. This will be more demanding on some routes, so we advise that you check the grade of the route you want to explore. If you'd like to know what to expect, take a look at this Tramper introduction video by Countryside Mobility.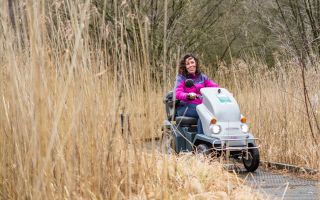 Find out what the Tramper service means to people around the Bay
The Tramper service allows access to beautiful places and spaces for those who struggle with poor mobility.
Find out more
Could you help transform lives by volunteering?
We are currently recruiting more volunteers to help run our hire points in Grange-over-Sands and to reopen our site near Haverthwaite providing access to the beautiful Roudsea Woods and Mosses National Nature Reserve.
Are you a friendly, sociable person who enjoys being outside and helping people make the most of their day? If so, we would love to hear from you - just drop a message by email to richard@morecambebay.org.uk