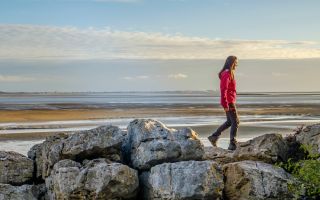 Walking
Walk Morecambe Bay
From canal and seaside strolls to hilly hikes and stunning viewpoints, there's nothing more invigorating than walking in Morecambe Bay.
From short ambles to multi-day hikes with world renowned art installations, quirky cultural gems and intriguing historic monuments along the way, there are so many reasons to get out and about on foot.
Walking
Morecambe Bay has such a spectacular variety of ever-changing landscape full of wildlife and quirky cultural relics. On foot, you can get close to rare butterflies and orchids and spot rare birds on the salt marshes. Whether you stroll along the spacious, sandy beaches, limestone headlands, venture through woodland canopies or explore cultural attractions on foot, you'll feel invigorated by all the Bay has to offer whatever your age or level of ability.
We're developing route guides which lead you to the Bay's 'mini munros' - the highest vantage points where you can take in the sweeping views. You will find more details about The Headlands Way series of walks here in the coming months.
And, if you have limited mobility you can still enjoy getting outdoors around the Bay by hiring a Tramper free of charge at one of our hire points. We're expanding the network of Trampers and adding more all-ability route guides in the coming weeks and months - keep checking back here to find out what's new.
Enjoy the outdoors whatever your level of ability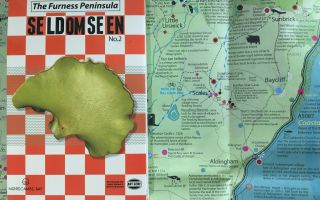 Seldom Seen walking audio tours for Apple
Explore the hidden gems, stories and histories of Morecambe Bay with this FREE interactive audio trail.
Download the audio guides for Apple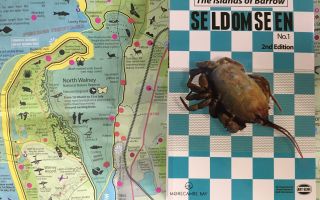 Walking Routes
A selection of walking routes for you to enjoy around the Morecambe Bay area:
Grade 1
Suitable for manual wheelchairs, as well as powerchairs and scooters. Routes are predominantly flat with largely smooth, bound surfaces. There is a good level of supporting services nearby.
Grade 2
More undulating than grade 1, best suited to scooters and powerchairs. Routes are generally on good tracks, although there may be stony or soft going stretches with shallow ruts. Gradients are limited to less that 1 in 10 with a maximum climb of 50 metres. There are usually some supporting service facilities en route or nearby.
Grade 3
Similar to grade 2, but with more height gain (up to 100 metres), and / or unavoidable stretches of more difficult ground. Supporting facilities are often available nearby, or within a short distance.
Grade 4
Routes that involve height gain up to 200 metres, including some steep pitches and / or rough and technical sections. Consequently, few 'town' scooters or powerchairs are suitable and a more robust off-road model is usually necessary to ensure safety. Supporting facilities may not be available en route or very nearby.
Grade 5
Routes that are some distance from roads on exposed hillsides over rough tracks with significant slopes, cambers and climbs. The routes involve longer stretches of rougher going than other grades, with steeper slopes (up to 1 in 5) and greater height gain (over 200 metres). Only suitable for robust models of powerchairs and scooters designed for off-road use. Supporting facilities are unlikely to be available en route or very nearby.