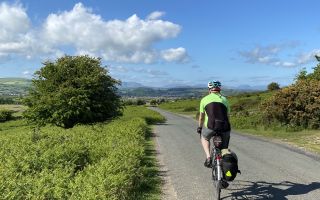 Cycling
Bay Cycle Way
If you're the kind of cyclist that prefers to savour the scenic view from your saddle rather than beat the clock, then the Bay Cycle Way is for you.
81 miles of awe-inspiring landscape to enjoy from your open air view....
Bay Cycle Way
Imagine 81 miles of awe-inspiring sea, sand, mountains and sky as you pootle around an amphitheatre of ever-changing views. Touring Morecambe Bay by bike will surprise and delight you with encounters of rare bird life, pockets of curious industrial landscape, world class historic sites, pretty rural villages, bustling market towns and tales from the locals.
Whilst the Birds of Morecambe Bay feast on the inter-tidal sands and rivers on their long migration, cyclists can replenish their energy with well-earned refreshment stops dotted along the way – you'll never be far from a view, loo and a brew.
Whether you're on a bucket and spade break with the kids in tow, or want to enjoy a gentle ride to savour the Bay's cultural connections and landscape, you can go at your own pace, stop off at the pub or do a little local shopping in between – the choices are endless.
Developed in close partnership with Sustrans, the Bay Cycle Way is part of the National Cycle Network (NCN 700) and connects Walney near Barrow to Glasson Dock just south of Lancaster. This relatively flat route is one of many long distance cycle routes that cross Cumbria into Lancashire and beyond, linking with the Way of the Roses, Walney to Wear and Coast to Coast.
We're planning a network of e-bikes around the Bay so keep visiting our pages to find out how we are working to make the Bay accessible to all, no matter what the age, level of fitness or confidence.